As we all know things have been rapidly changing. The governor has allowed dealerships to re-open by observing extra precautions. Sales, Service, and Parts are now open. We continue to take the safety steps listed below. 
OUR DEALERSHIPS HAVE TAKEN SEVERAL STEPS TO ENSURE CUSTOMER AND STAFF SAFETY: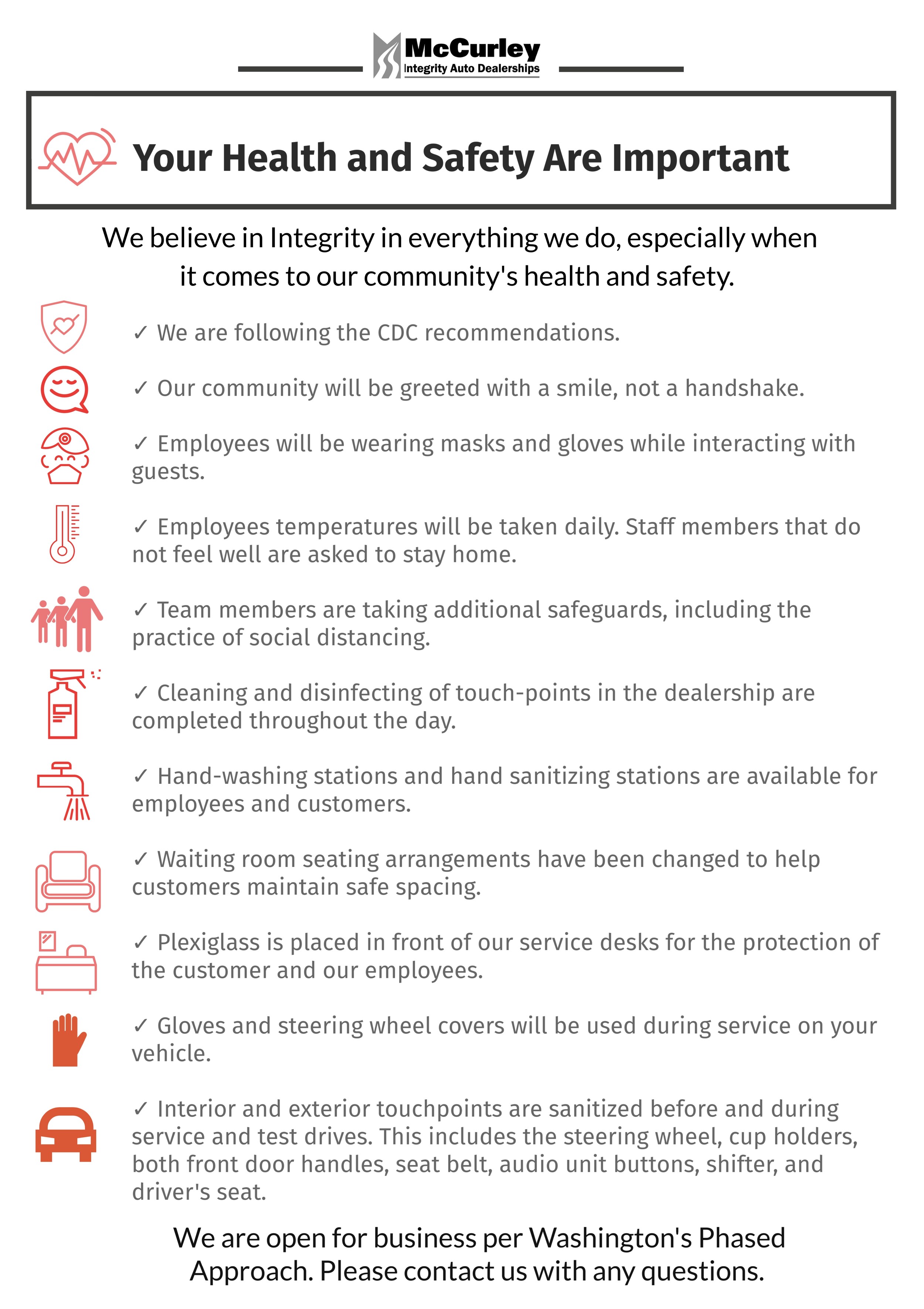 ✓ We are following the CDC recommendations. ✓ Our community will be greeted with a smile, not a handshake. ✓ Employees will be wearing masks and gloves while interacting with guests. ✓ Team members are taking all safeguards, including; hand washing, use of gloves, use of steering wheel covers, and the practice of social distancing.  ✓ Cleaning and disinfecting of touch-points in the dealership are completed throughout the day.✓ Employees temperatures will be taken daily. ✓ Hand-washing stations and hand sanitizing stations are available for employees and customers.  ✓ Staff members that do not feel well are asked to stay home. Employees displaying symptoms are respectfully asked to vacate the premises.✓ Waiting room seating arrangements have been changed to help customers maintain safe spacing. ✓ Plexiglass is placed in front of our service desks for the protection of the customer and our employees.✓ Interior and exterior touchpoints are sanitized before and during service. This includes the steering wheel, cup holders, both front door handles, seat belt, audio unit buttons, shifter, and driver's seat.✓ Gloves and steering wheel covers will be used during service on your vehicle.

SERVICE AND PARTS HOURS:
Service:
Monday-Saturday: 7am-6pm
Saturday: 8am-4pm
Sunday: Closed
Parts:
(All Stores)
Monday-Saturday: 8am-5:30pm
Sunday: Closed
Online scheduling is available for your maintenance and repair needs. Drop off services are always available.
Schedule your service online here: https://www.mccurleyintegrityhonda.net/schedule-service.htm